by Jaclyn Ermoyan
AmeriCorps NCCC Class 24 Corps Member, River 50 Media Representative
Black bear sighting, mountaintop hiking, and log cabin living.
This is how composite team River 50 started their time together on November 21st. The team served with Kentucky Natural Lands Trust (KNLT) in Harlan, KY, for four weeks to assist in trail maintenance and erosion control.
The National Civilian Community Corps (NCCC) team assisted KNLT and their partners to make both rare/endangered species protection and outdoor adventure tourism opportunities a reality on Pine Mountain. The team stayed in a cabin along the mountain at the Pine Mountain Settlement School (PMSS) and spent time maintaining the school's trails.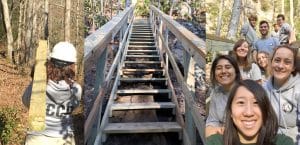 The team hauled lumber 1.2 miles up a mountain to assist in building a 50-step wooden staircase along a portion of the trail that can no longer be hiked. Icy waterfall swims and cold mornings didn't stop this team.
Between working with KNLT and PMSS, the team accomplished the following:
Built a staircase at Bad Branch State Nature Preserve. The team had to hike 1.2 miles each way to pick up and haul loads of approximately 20-pound lumber and cement over a three day period.
Created 0.3 miles of new trail on a KNLT preserve; creating switchbacks along the mountain in rocky terrain while cribbing downsloping side.
Developed 0.75 miles of new trails that will allow more people to hike the Pine Mountain Mountain State Scenic Trail/Great Eastern Trail.
Helped clear a barn and move the contents to a different location. The team moved 469 windows, 30 doors, 139 metal chairs, and 130 wooden chairs.
Created a 1-mile fire break through the PMSS's campus.
Improved 4.85 miles of existing trails by removing fallen leaves on the PMSS campus.
Replaced 50 feet of sewer line on PMSS's campus.
Cleared leaves from 2 acres of PMSS's school grounds.
River 50 was able to knit hats, learn how to square dance, and pet stray dogs. Although they did marathons worth of hiking during the workday, they still went hiking in their free time to watch the sunrise. The team had a blast on this project and can't thank the sponsors enough.