Wildlands Art & Music: 2017 Group Show
December 2, 2017 @ 7:00 pm

-

11:00 pm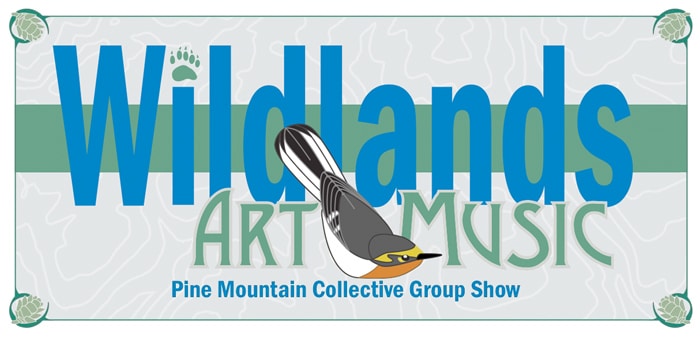 Pine Mountain Collective Group Show – a benefit for KNLT. In 2015 KNLT, in collaboration with writer Erik Reece, and visual artist and writer Zoe' Strecker, hosted artists' retreats on Pine Mountain, a 125 mile forested ridgeline in far southeastern Kentucky. The retreats were aimed at engaging artists in the Pine Mountain Wildlands Corridor project and showing them the splendor of the mountain in hopes they would be inspired by their experience. The group has become known as the Pine Mountain Collective.
Art Show @ 7pm | Readings @ 8pm | Music @ 8:30pm
Facebook event page: https://www.facebook.com/events/139312820130993/
Tickets: $10 Available at CD Central or the door!
Food Truck: Babz Bistro https://www.facebook.com/BabzBistro/
Beer: West Sixth Brewing https://www.facebook.com/westsixthbrewing/

21+ Show – details here: https://knlt.org/event/wildlands-art-music-2017/
Music:
• Joanna James with Anna Hess:  iTunes | CD Baby
• Nicholas Penn & Seth Murphy: website
• Stephanie Jeter & Andy Duckworth: website
Readings:
• Erik Reece, author, professor of writing & retreat co-host
• Sean Patrick Hill, author
Visual Art:
• Anessa Arehart, painter, Little Wing Studio
• Brett Bentley, photographer, Bentley Made
• Vallorie Henderson, textile artists, website
• Gerry James, storyteller, director The Explore Kentucky Initiative
• Colleen Newcomb, glass artist, Wildlight Glassworks
• Joen Pallesen, artist – wood & spray mediums, website
• Laura Poulette, painter, illustrator, fiber artists, Meadow House
• Mollie Rabiner, sculptor
• Michael Ratterman, sculptor, website
• Jason Scroggin, associate professor of architecture/UK College of Design, website
• Diana Sudyka, illustrator, website
• Brian Turner, printmaker, Cricket Press
• Sara Turner, printmaker, Cricket Press
• Greg Abernathy, visual artist
Special thanks to our sponsors: