Wildlands Art & Music
April 8, 2016 @ 6:00 pm

-

11:00 pm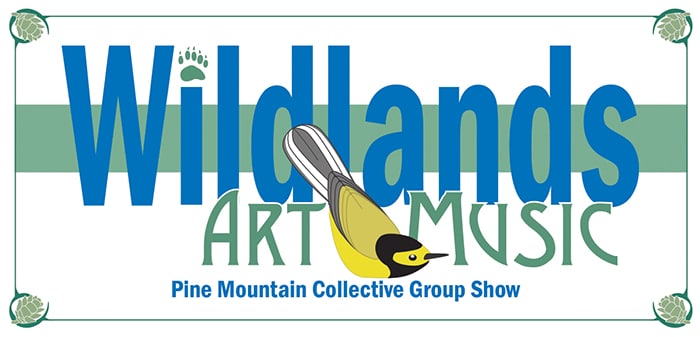 Pine Mountain Collective Group Show – a benefit for KNLT. In 2015 KNLT, in collaboration with writer Erik Reece, and visual artist and writer Zoe' Strecker, hosted artists' retreats on Pine Mountain, a 125 mile forested ridgeline in far southeastern Kentucky. The retreats were aimed at engaging artists in the Pine Mountain Wildlands Corridor project and showing them the splendor of the mountain in hopes they would be inspired by their experience. The group has become known as the Pine Mountain Collective.
Art Show @ 6pm | Readings @ 7pm | Music @ 8pm
Facebook event page: https://www.facebook.com/events/214937138853878/
Tickets: $10 Available at these fine establishments:
CD Central (Lexington), Revelry Boutique Gallery (Louisville) & Poor Richard's Books (Frankfort)
Tickets will be available at the door!
Art:
• Zoé Strecker, visual artist, writer, professor of art & retreat co-host
• Greg Abernathy, visual artist
• Whit Baker, writer and visual artist
• Carrie Billett, actor, artist & writer
• Jeff Chapman-Crane, painter & sculptor (Valley of the Winds Art Gallery)
• Mike Frasca, potter
• Valerie Sullivan Fuchs, new media artist
• Mike Goodlett, visual artist
• John Lackey, painter, printmaker, illustrator & poet (Homegrown Press)
• Nana Lampton, painter & author
• Guy Mendes, photographer
• Timothy Polashek, a composer, music technologist & professor of music
• Jeff Short, glass artist
• Diana Sudyka, illustrator
• Erika Strecker, sculptor
• Melissa Muir Sutherland, visual artist
• Lina Tharsing, painter
• Petersen Thomas, painter
• Brian Turner, printmaker (Cricket Press)
• Sara Turner, printmaker (Cricket Press)
• Jenny Zeller, visual artist & photographer
Readings:
• Erik Reece, author, professor of writing & retreat co-host
• Carrie Billett, actor, artist & writer
• Ed McClanahan, author
• Bobbie Ann Mason, author
• Trina Peiffer, poet
• Eric Scott Sutherland, poet
• Richard Taylor, author, poet & professor of writing
• Mary Ann Taylor-Hall, author
Music:
• Daniel Martin Moore: website | facebook | listen – DMM is from the Commonwealth of Kentucky. He has released five albums to-date: three via Sub Pop, and two via his own OK Recordings (a label that possesses the clear aim of bringing some great tunes to some discerning ears). Often, you'll find DMM working/recording/touring/drinking tea/throwing frisbee with Dan Dorff, Jr., Joan Shelley, Jim James, Kevin Ratterman, Dave Givan, Ben Sollee, and a whole host of other talented musicians from around the Commonwealth, the country, & the globe. He is currently in the studio with his band & a few other pals making a new record.
• Western Movies – Chris Sullivan: website | listen – Western Movies is a travelogue of organic musical styles ranging from surf/pop and old school lounge to exotic twang, instrumental film music and cinematic acoustic folk blues.
• Warren Byrom & Fabled Canelands: website | facebook | listen – Warren is a songwriter and multi-instrumentalist living in Lexington, Ky where he has collaborated and performed with several bands including his solo project "Fabled Canelands". His first solo album "the Fabled Canelands" was self released in summer 2011. His forthcoming record "Heavy Makes You Happy" is due out June 2016.
"Kentucky boy whose idiosyncratic country-folk is earthy without necessarily feeling like Americana. Reminds me a bit of Silver Jews (albeit with more attention to melody and, like, playing the right notes) or certain moments in Neil Young's career. Mostly acoustic, with nice arrangements of strings, pedal steel, keys, and trumpet (played by Warren himself). A rocker here, a mambo there. Like Jason Zavala's new disc, the album credits are like a dream rolodex of Lexington jammers– Chris Sullivan, James Friley, Robbie Cosenza, etc. etc. Terrific lyrics that really evoke the South, often central Kentucky (love referring to Cinci as "Chinchbugnasti town")." -Trevor Tremaine, WRFL radio
Special thanks to our sponsors: