"Meet & Greet" with Artist Jeff Chapman-Crane
May 25, 2016 @ 4:00 pm

-

6:00 pm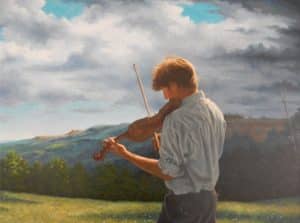 KNLT will host a "Meet & Greet" with Appalachian artist Jeff Chapman-Crane at the Loyal Jones Appalachian Center at Berea College on May 25 from 4-6 p.m.
Chapman-Crane works in water-based media and has been painting for over 40 years. His paintings express truth and integrity of the southern mountain experience with realistic images of people and places. He is the illustrator for the children's book, Ragsale, which was awarded "Best in Show" at the 1995 New England Bookfair. Jeff and his wife, Sharman, live in Eolia, Kentucky, in Letcher County where they own and operate the Valley of the Winds Art Gallery.
Twenty of Chapman-Crane's paintings are currently on exhibit at the Loyal Jones Appalachian Center. KNLT will host the "Meet & Greet" on May 25 for the public to view the exhibit and have the opportunity to interact with Jeff and his wife Sharman. All are welcome and light refreshments will be served.
The exhibit, "The Journeyman's Song: Paintings by Jeff Chapman-Crane," is currently showing in the Center through June 3. The Center is free and open to the public weekdays from 8 a.m. until 5 p.m. The Center is located at 205 North Main Street in Stephenson Hall on the Berea College campus.
Kentucky Natural Lands Trust (KNLT) is a nonprofit organization working to protect, connect and restore Kentucky's wildlands. KNLT is working with artists to promote "Wildlands and Art" as a way to connect more individuals with Kentucky's amazing natural areas. Jeff Chapman-Crane is one of numerous Kentucky artists who are involved in this effort.